Journal - Shira
Wednesday, September 14 Machame Camp To Shira Camp (12,600 ft)
Slept good considering sleeping at higher altitude in cool weather. I took 5mg of Ambien before going to bed; woke at 12:30, took another 5mg and slept to 6:00 AM. We are responsible for packing all gear for the porters to carry, so, after waking up I dressed and packed all gear then set out for breakfast. The entire crew started our morning by singing and dancing for us for about five minutes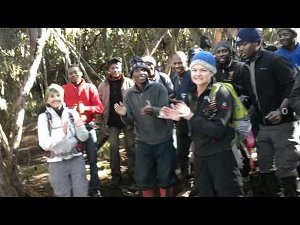 . It was a great way to start the day.
It was a long, hard, steep hike today. The entire hike was up hill in higher altitudes. I'm very thankful for all the training hikes up Sawnee Mountain, Panther Creek trail and Blood Mountain. We are all taking Diamox now, 125mg in morning and 125mg in evening; because of this I am giving Susan and Emily plenty of rest stops while I go off trail to relieve myself. However, I'd much rather be taking breaks than deal with altitude issues.
We did go slow, not many muscle issues and never out of breath (very much) because of training and the slow pace. However, near the end of the day I did start getting sleepy and tired. Emily over ate during our lunch break and started mid day with a too fully belly. She had to get our assistant guide, Gudian, to carry her pack for an hour while she sweated off her lunch. After an hour or so she was back to normal. All three of us learned at some point to not eat too much lunch before finishing off the day.
I drank an entire three liter camel pack today, probably the first time I've ever drunk that much on one hike. I also stopped what seemed like every 30 minutes because of this. Some of the hiking sections were very cool and demanding; steep cliffs on each side and big climbs. Several times we had to put our poles away to free both hands to climb.
Camp was nice to see today. They had a rock path to our tents and to our potty tent. Very nice touch by the group.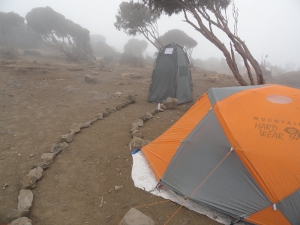 Maybe ten minutes after we arrived to camp it began to rain and hail really hard for 30-45 minutes. We were very lucky to make it to camp so that we didn't have to hike in this. The day is very cloudy today. We were supposed to do a 45 minute acclimatize hike after resting, but because of the bad weather Ernest decided to skip it. He did however tell us to increase our Diamox from 250mg to 500mg per day since we're now a few days out from our summit hike. Temperature on the mountain is in the mid 40's ( Fahrenheit ) so it's very cool out. I ended up having to put on two layers of wool socks and plenty of warm clothes in the tent to get a good night's sleep.