Journal - Karanga
Friday, September 16 Barranco Camp To Karanga Camp (13,210 ft)
Slept well last night also with only 5mg of Ambien. I woke a couple of times during the night because it was so darn cold, but was able to cover up a little better and get back to sleep quickly. The hike today was a fantastic, fun rock climb up Barranco wall. Total hiking was only a few miles and four or so hours, but was one of the most dangerous hikes because of the narrow paths and cliffs. There was no need for poles today because we used our hands the entire time.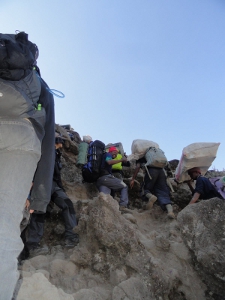 This was definitely the most fun and exciting climb of the entire trek in my opinion; not the most rewarding (such as summit day), but, it was the most fun! Training has paid off well. My heart rate, strength and endurance are fine. The climb is demanding but I was never out of breath or had any issues at all.
The second half of the trek was all down hill after we climbed the wall. We hiked down the wall, through Karanga Valley and into Karanga Camp. The campsite is around the same altitude as Barranco, but this is good for acclimatization. We hiked high today then back low to sleep. Whatever we're doing is working so I can't argue. The combination of Diamox and our slow hiking is helping. None of us are having any issues with the altitude. We arrived at camp around 1:30 PM, had lunch and got to rest until dinner. We had a small two hour acclimatization hike scheduled for today but because of intense fog and light rain Ernest cancelled this so that we don't get our gear wet before the next big push. Tomorrow is the start of our biggest challenge yet. Tomorrow is the *beginning* of our summit push, which will include hike to Barafu Camp, small rest, summit hike up and down, small rest then hike to lower Mweka Camp. This will be about 24 hours of hiking over a 36 hour span.