Journal - Machame
Tuesday, September 13 Machame Gate (4890 ft) To Machame Camp (9850 ft)
Susan's bag still has not arrived. Ernest has been working nonstop looking for her bag and also working to get all replacement gear for her. She will start the trek in mostly used gear including oversized men's boots and clothes. Everyone has hopes that the bag will arrive today and a porter will bring up the trail in evening. She's handling the situation very well considering the circumstances.
We left Arumeru River Lodge. around 9:00 AM after eating breakfast. The lodge stores any and all gear not needed on the mountain so I left a travel bag, Ipad and cell phone to be locked up. A small bus with all the porters picked us up and drove us to the Machame gate to start our check in process. Emily, Susan and I split off to the "holding" area where all trekkers get their gear ready, snack a bit and take one last visit to a clean restroom. During this time Ernest deals with all the licensing and permits for us and the porters. We ended up being a few porters short because of all the water and gear we have to take with us. We are taking three liters of bottled water per person per day (cooking water will be boiled). All this added some extra weight which means a few more paid porters.
Finally, after checking in and signing our names we started hiking. We start in the rain forest zone. It is very, very muddy and slippery during our hike up. Ernest says we either get very, very dusty or very, very muddy; we got the mud, and lots of it. Gaiters were a great investment at $65. With exception of the mud the hike was relatively simple. Not much heavy breathing or anything, just a long day of hiking. There were a few steep parts but enough level areas to even it out. Looks like all the training has paid off so far. We ended up around 6.5 miles for the day. It was great to finally be out hiking on the trail.
After a few hours we stopped for lunch. The porters had run ahead of us and prepared a nice area for us to rest.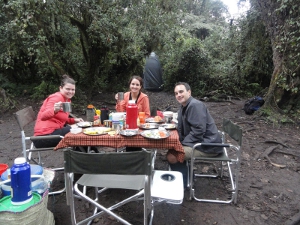 Lunch was a display of veggies (tomato, cucumber, etc.) fruit and PB&J. We had a table set up for us plus our own personal toilet tent. First class all the way with this group. Most, if not all, other groups had a packed lunch box sitting on wet muddy rocks. Not us! After lunch we continued to hike. No problems getting to camp. Upon arrival we have to sign a log saying we made it to camp. We did that then went to our assigned tent. Again, being first class all the way, we had a porter waiting to blow up our sleeping mattress for us. We spent a little time cleaning ourselves with hot water then came out for tea and dinner. Off to bed around 9:00 for an early 6:30 AM wake up call.