Journal - Barranco
Thursday, September 15 Shira Camp To Barranco Camp (12,950 ft)
Slept very well last night in Shira camp. I only took 5mg of Ambien before tucking in and was fine with this. The weather was decent and sleeping bag and pad are quite comfortable. So far Diamox is working great; no headaches, nausea or any other altitude issues. I do have a few of the classic side effects -- slight tingling in fingers, loss of appetite and frequent urination, but the side effects are well worth the tradeoff of not being sick.
Today was a long day. Eight hours of slow hiking up steep slopes to Lava Tower Camp then to Barranco Camp. The weather is a bit chilly today. Dress attire is long johns shirt, pants and light jacket. It was also very windy and dusty today. I ended up getting lightly wind burned on my face by the end of the day. To make matters worse I only took 1.5L in my camel back today. Huge mistake. Emily, Susan and I were talking about backpack weight and the length of our hike today. We thought that taking 1.5L would help with weight and that we would take another 1.5L mid-day. Big mistake. All three of us ran out of water with a couple of hours left before our lunch break and where the porters were with replacement water. The hike today was long, slow, dusty, cold and up hill. We all were drinking a lot, and running out of water made it much worse. Ernest was a little peeved at all three of us but was trying his best not to show it. We kept trucking on though and finally made it to Lava Tower for lunch and replacement water. All three of us were in a sour mood because of slight dehydration, but we regrouped with a nice lunch and plenty of hydration. I really wanted to climb Lava Tower; I had the energy and stamina, but because of our slow pace to lunch we were running out of time to make it to camp before dark. To climb Lava Tower I would need a couple hours which we couldn't spare.
We left Lava Tower and continued our hike to Barranco. Earlier in the morning at 6:00 AM Earnest asked a porter to leave Shira and rush to Barranco camp to grab the best camp spot. Very, very nice touch. Our camp site at Barranco was spectacular, one of the best sites available.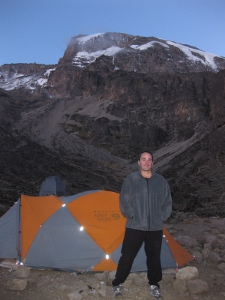 Yet another reason why using a small, personalized company has it's advantages. We took some pictures and had a nice dinner of spaghetti and carrot & ginger soup. The weather is starting to get very cold in the higher altitude. I'm having to sleep with sock liners and thick wool socks to keep my feet warm, but sleeping bag and liner are working fantastic in keeping my body warm. I've not woken up cold a single time. Tomorrow we get to climb Barranco wall for about 3 hours or so. This will be very, very steep sections, more like actual rock climbing. We are all very much looking forward to this.